Hiroshi-kun Toothpaste (Mini Size)
Product Information
Mini size for portability.
Product name
Hiroshi-kun Toothpaste
Product name
Pure BLACK GT-2 (Toothpaste)
Product No.
PBHD-02
JAN code
4951982600459
Content grams
10g (in a tube)
Ingredients
炭酸Ca(清掃剤)、水(基剤)、グリセリン、ソルビトール(湿潤剤)、コーンスターチ(粘結剤)、キシリトール(香味剤)、ラウロイルグルタミン酸Na(洗浄剤)、炭、銀、フィチン酸、炭酸Na、アロエベラ葉エキス(その他)、ヒドロキシアパタイト(清掃剤)、グリチルリチン酸2K(その他)、ハッカ油(香味剤)、キサンタンガム(粘結剤)

---

calcium carbonate; water; glycerin; sorbitol; zea mays (corn) starch; xylitol; sodium lauroyl glutamate; Pure BLACK; silver; phytic acid; sodium carbonate; aloe barbadensis leaf extract; hydroxyapatite; dipotassium glycyrrhizate; hakka yu (JTN); xanthan gum
Recommended retail price
195 yen (including tax)
This product is the fruit of many years of research conducted by Mr. Hiroshi, who has devoted his life to technological development.
The Hiroshi-kun Toothpaste helps to absorb and remove stains in the mouth through characteristic infrared rays (growing light) emitted by Pure BLACK, thereby regaining white teeth free of dullness.
We have paid special attention to selection of raw materials. The toothpaste does not include any of the materials which threatens to irritate the interior of the mouth such as synthetic surfactants (sodium lauryl sulfate, AOS, etc.), synthetic sweeteners (saccharin, etc.), synthetic preservatives, synthetic colorants, and antiseptic agents.
This toothpaste can be used safely by people of all ages.
Our mouths are filled with germs!
Intraoral microorganisms in a plaque taken from the interior of the mouth

Gum disease is very dangerous and dreadful in that bacteria which enter through the clearances between teeth and gums cause inflammation of the gums, make progress into the roots of teeth, and finally melt jawbone.
In recent years, young patients suffering from this disease have been increasing in number.
Gum disease can be regarded as one of the life-style related diseases.

At the initial stage of gum disease there is little subjective symptom.
Some of the dangerous signs of this disease are swelling of gums, loosened teeth, and excessive sensitivity to cold or hot food/drink.
Once gum disease has developed, it is quite difficult to cure it.

Before anything else, "prevention" is the most important.

To prevent gum disease from occurring, take care to brush you teeth every time after eating.
Data of the intraoral-germ culture experiment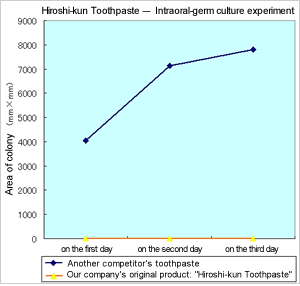 Hiroshi-kun's favorite material: Pure BLACK
Please click here for more details on Pure BLACK.

Hiroshi-kun, who never compromises, has been engaged in research and development on this over a long period of time. As the result of his tenacious pursuit of a safer and higher-level characteristic far infrared ray technology, he has been successful in independently creating a new material, Pure BLACK.