Equal Sheet
Relaxing sheet gently wraps you with its far infrared rays.
| | |
| --- | --- |
| Product name | Pure BLACK Equal Sheet |
| Product No. | IK-1001 |
| JAN code | 4562132670569 |
| Size | 90cm×150cm |
| Material | polyester, etc. |
| Recommended retail price | 29,800 yen (including tax) |
The product helps to provide you with comfortable sleeping time as indispensable.
One third of each day is allocated for your precious sleeping time.
To sleep a sound sleep requires a comfortable sleeping environment.
Equal Sheet interwoven with Pure BLACK emitting far infrared rays enables you to sleep comfortably.
It helps to alleviate severe coldness while you enter into sleep during the winter and enables you to wake up clear-minded in the morning.
You can sleep warm without using an electrical blanket, and therefore, especially elderly people who worry about urinary incontinence are recommended to use the product.
Equal Sheet's Thermal Effect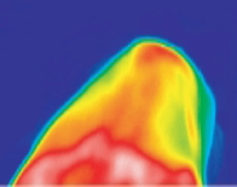 (A picture taken of the distribution of body temperature 45 min. after the body and the head having been covered up with Equal Sheet.)
Hiroshi-kun's favorite material: Pure BLACK
Please click here for more details on Pure BLACK.

Hiroshi-kun, who never compromises, has been engaged in research and development on this over a long period of time. As the result of his tenacious pursuit of a safer and higher-level characteristic far infrared ray technology, he has been successful in independently creating a new material, Pure BLACK.